Movie Roulette
Hollywood Shuffle
A satirical comedy about an up and coming actor who finally gets a big gig, but it emphasizes African-American stereotypes in Hollywood.
Top 10 This Month
1. Split Image ( Prime Video )
2. The Dogs of War ( Prime Video )
3. Stigma (Estigma) ( Prime Video )
4. The Florida Project ( Prime Video )
5. The Lost Boys ( Netflix )
6. The Wilby Conspiracy ( Brown Sugar )
7. Being There ( FilmStruck )
8. The Phantom ( Prime Video )
9. True Romance ( Shudder )
Top 10 This Week
1. Beyond Skyline ( Netflix )
2. To Be Twenty ( Prime Video )
3. Cassette ( Hoopla Digital YouTube )
4. The Decline of Western Civilization ( FilmStruck Kanopy TubiTV Shout Factory )
5. Titicut Follies ( Kanopy )
6. Tale of Tales ( Netflix )
7. Wild Little Bunch (The 14) ( Prime Video )
8. The Lickerish Quartet ( Midnight Pulp )
9. The Man on the Eiffel Tower ( FilmStruck Fandor )
10. Love Rites ( Midnight Pulp Kanopy )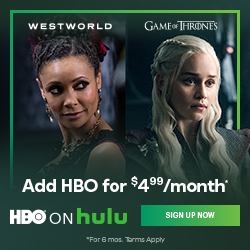 Top 10 All Time
1. Season of the Witch ( Prime Video )
2. The Breadwinner ( Netflix )
3. Evils of the Night ( Prime Video )
4. Dead Pit ( Prime Video )
5. My Entire High School Sinking Into the Sea ( Hoopla Digital Netflix )
6. Double Doses of Horror: The Vampire's Night Orgy/Invasion of the Bee Girls ( Prime Video )
7. Bog ( Prime Video )
8. The Retrievers ( Prime Video )
9. Take Me ( Netflix Prime Video )
10. Lightning Bolt ( Prime Video )
Streaming News
Here's whats coming to Amazon Prime in May (AV Club)
Joe Bob Briggs Returning to Host 24-Hours Horror Marathon on Shudder (Bloody Disgusting)
Martin Scorsese Directing 'SCTV' Reunion Show for Netflix (IndieWire)
How Netflix and Amazon are Driving a Global Reality TV Renaissance (Hollywood Reporter)
The Best Media Streaming Devices (Forbes)
Cannes officially bans Netflix movies from competition (World of Reel)
Imagining Netflix in 1995 (Boing Boing)
Netflix asks you to start hacking, bug bounty program is now public (ZDNet)
Monty Python Heads To Netflix As SVOD Service Picks Up Entire Comedy Catalog (Deadline Hollywood)
Hell yes, Hulu's developing a series based on the Satanic Panic of the '80s (AV Club)


What's new on This Thing, Anyway?
I've recently added "Video Store Mode" to the options, which should give a little bit more of a feeling of browsing the aisles, looking for an evening's entertainment by deliberating between great box art. Choose your services and click "Video Store Mode" to try it out!
Another new addition is the "Trailer Playlist," which allows you to pick your specified streaming services, genres and date range, and creates a custom playlist of trailers for your entertainment!
Lastly, I've made the site a bit more mobile-friendly and have started to add links to genre film websites on the films themselves, so you can find some outside opinions on the classy trash you love!
Interested in the genesis behind this project?
Go here!